Azeem Rafiq hailed the courage of those who had contributed to a new report laying bare the problems of discrimination facing cricket.
A long-awaited Independent Commission for Equity in Cricket (ICEC) report was finally published on Tuesday.
Based on findings from more than 4,000 respondents, it found racism remains entrenched in the sport, that women routinely encounter sexism and misogyny and are treated as "subordinate" to men within cricket, and that little to no action has been taken to address the class barriers that exist.
In short, the report found cricket to be "elitist and exclusionary" and set out 44 recommendations for the England and Wales Cricket Board to act on.
Rafiq ignited the debate around discrimination in the sport after he spoke out in 2020 about the racism he encountered across two spells at Yorkshire, and contributed to the ICEC report.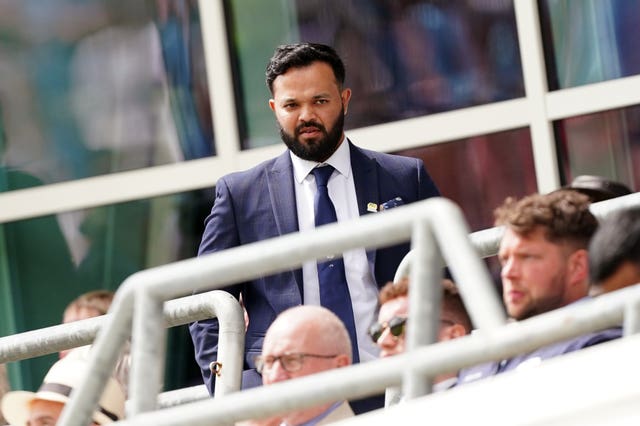 He told the PA news agency: "I hope that reading this report will be some closure to all the people that have contributed.
"All of these people were brave enough to speak to the commission and I know there are a lot more out there suffering in silence. I just hope that this report reflects their voice and gives them a path to closure.
"It doesn't matter how you speak or where you speak, any sort of decision to speak and contribute to such a huge issue within our society, within our game, takes a lot of courage. I obviously don't know each and every one of these people (but) I'm just incredibly proud of that bravery."
The first of the 44 recommendations was for the ECB to unreservedly apologise for failing to do enough to tackle discrimination, and to those who had suffered as a result of those failures.
The ECB has done so, and committed to a three-month consultation process to draw up reforms that build on the recommendations of the report.
Asked if he shared ICEC chair Cindy Butts' faith in the current ECB leadership to bring about meaningful change, Rafiq said: "There's an opportunity for the current leadership. I think they will be judged on their actions ultimately.
"It's very important for us not to jump from one place to the other, that there's no kneejerk reactions. I like the fact the ECB is going to take some time to create a strategy."
Rafiq said there were bound to still be people who would insist these issues are either isolated or exaggerated, but added: "All I say to them is, for the sake of our game, we've got to come together.
"Cricket has got to become a place for everyone or we really risk what our game is going to become.
"This research is pretty damning. The data is there, the research is there, it's over 4,000 (respondents) at this stage.
"If after everything that has happened over the last few years there's still this denial that makes it really difficult for us to really come together and make our game respectful and a place for everyone."