French President Emmanuel Macron says "common sense and friendship" led to the cancellation of King Charles III's upcoming visit due to the anti-government protests in France.
Speaking at a press conference after a summit in Brussels, Mr Macron said: "We would not be serious … to make a state visit in the middle of protests."
He said proceeding with Sunday's visit "would have prompted incidents" that would have been "detestable".
He said Charles's visit will likely be rescheduled for the beginning of summer.
Mr Macron condemned the violent behaviour that has taken place at some of the protests against his plan to raise France's retirement age from 62 to 64, saying "violence has no place in a democracy".
Although no major protests were planned for Friday, train traffic was slowed, rows of lorries blocked access to Marseille's port for several hours and debris still littered the streets of Paris following the previous day's mass demonstrations.
More than 450 protesters were arrested in Paris and beyond as some 300 demonstrations on Thursday drew more than a million people nationwide.
Polls show that most French people oppose having to work two more years before retiring, which Mr Macron says is necessary to keep the pension system afloat.
Interior minister Gerald Darmanin said 441 police officers and gendarmes were hurt as violence marred some marches.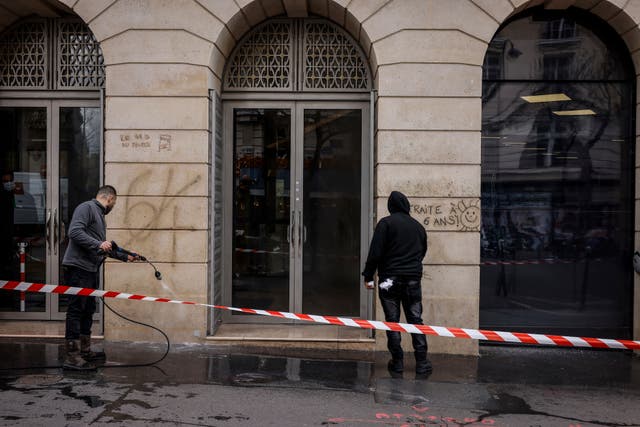 He said 1,000 rubbish bins were set on fire in the French capital; overflowing garbage cans have become a symbol of the protests during a weeks-long strike by sanitation workers.
Charles and Queen Consort Camilla planned to visit both France and Germany during the King's first trip abroad as Britain's monarch.
He still plans to go to Germany but British Prime Minister Rishi Sunak's office said another date will be found for the French leg.
"The King and Queen Consort's state visit to France has been postponed," Mr Sunak's Downing Street office said.
"This decision was taken with the consent of all parties after the president of France asked the British government to postpone the visit."
Charles was scheduled to visit the city of Bordeaux on the second day of his trip to France.
The heavy wooden door of the elegant Bordeaux City Hall was destroyed by fire on Thursday night by people taking part in an unauthorised demonstration.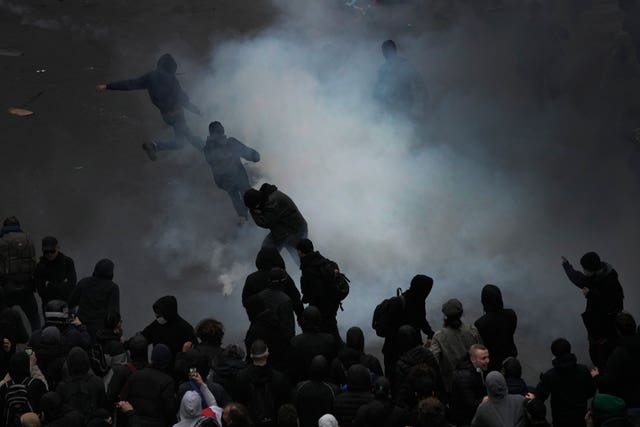 Mayor Pierre Hurmic said he had "difficulty understanding the interest of such acts of vandalism".
Before the King's visit was postponed, Mr Hurmic said he hoped it would not get cancelled.
"I hope that we do not give this gift to the thugs," he said.
Fires in Paris, which were intentionally lit in narrow or inaccessible alleys on Thursday night, alarmed both city officials and residents.
Firefighters and residents worked together to tame the flames that rose to the second storey of an apartment building in the chic Palais Royal area.
Oil refineries have been another protest target.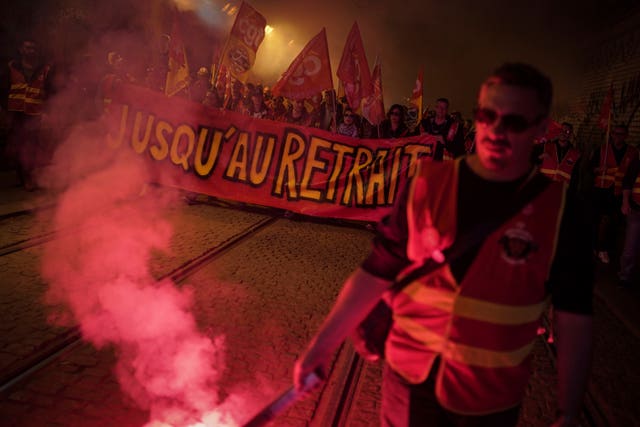 On Friday, emboldened protesters headed to the Fos-sur-mer oil depot near Marseille to stop lorries from entering and leaving.
However, fuel supplies to Paris from the large Gonfreville-L'Orcher refinery in Normandy resumed on Friday after police intervened, French energy transition minister Agnes Pannier-Runacher said.
Fearing disruption in coming days as actions continue, France's Civil Aviation Authority has requested the cancellation of one-third of flights at Paris's second airport, Orly, on Sunday, and 20% on Monday.
Unions have called for new protests and strikes on Tuesday.