Hundreds of thousands pro-Palestinian demonstrators took to central London streets demanding a ceasefire over the bombing of Gaza.
Only two people were arrested so far by officers policing the protest.
One man was arrested on Whitehall after a police officer was assaulted, the Metropolitan Police announced on X, formerly Twitter.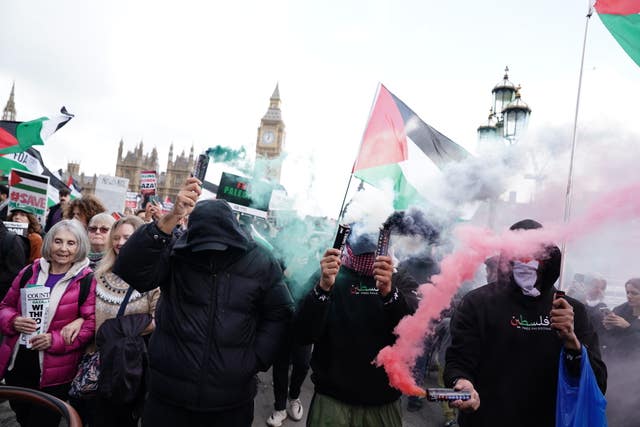 The force said the officer was taken to hospital following the incident.
Police could not say who the arrested man was.
Another man was arrested in Waterloo Road on suspicion of a racially aggravated public order offence and making threats to kill.
It was not immediately clear whether the people arrested were taking part in the protest or a counter demonstration.
A Section 60 and Section 60AA authority was put in place until midnight, giving police stop and search powers in the London boroughs of the City of Westminster and Kensington and Chelsea.
Police were seen clashing with pro-Palestinian protesters.
Officers appeared to be detaining someone close to Downing Street before demonstrators began scuffling with them.
Punches and kicks were thrown and officers ordered the demonstrators to move away.
One person was taken to the floor and carried away to chants of "let him go" from other protesters.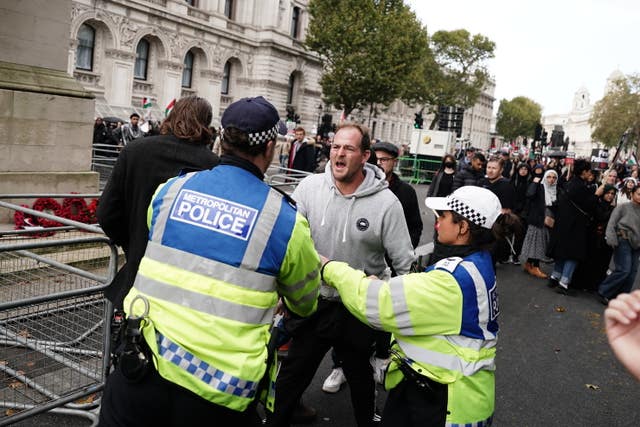 Demonstrators gathered at noon on Saturday in London with banners and posters and let off fireworks and red and green flares.
A woman was knocked over by a police horse after the animal was startled by fireworks, but appeared to be fine when she was brought back to her feet.
More than 200 people staged a sit-in on the concourse of London Waterloo station, chanting "ceasefire now", according to activist group Sisters Uncut.
More than 1,000 Met Police officers are on duty for the demonstration, the force announced on X.
The Met said it expected large crowds around Embankment, Westminster and Waterloo Bridges, the Strand, Whitehall and nearby roads.
It warned the force would be vigilant in responding to crime.
Several conditions have been imposed under the Public Order Act, including that protesters should follow a specified route and should not gather in a specified area outside the Israeli Embassy.
Rallies have also been organised elsewhere in the UK for Saturday – including in Manchester and Glasgow.
A protest is due to take place in Bristol city centre on Sunday.
Avon and Somerset Constabulary said it was expecting between 2,000 and 5,000 people to gather.