Thousands of people have taken to the streets of Ireland's capital city in a national protest over the country's housing crisis.
Trade unions, political parties, students, homeless charities and campaign groups have united in their call for radical changes to the Irish government's housing policy.
Over 10,000 people spilled onto the streets in Dublin for the Raise The Roof rally to highlight the lack of affordable housing.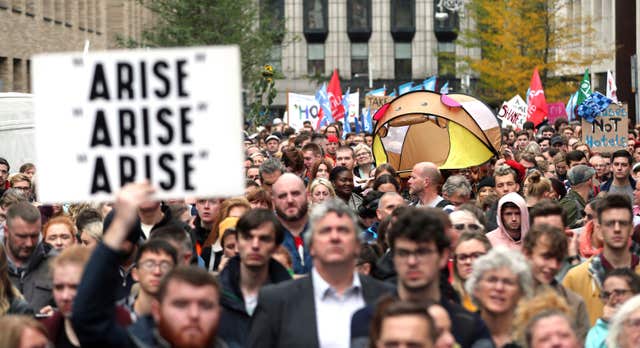 Protesters marched from the Garden of Remembrance to Leinster House where a number of high-profile speakers addressed the large crowd.
It comes as the Dail debated a Private Members motion on housing and homelessness.
Political parties backing the motion included Sinn Fein, the Labour Party, People Before Profit, Fianna Fail, Solidarity, the Green Party, Social Democrats and Independents4Change.
Housing Minister Eoghan Murphy admitted there is a serious housing crisis but said that emergency responses were being put in place.
He added that the Government needs to "do more".
Among the speakers was Sheila Nunan, President of the Irish Congress of Trades Union.
She told the crowd: "It is an emergency when students cannot afford to go to college or families cannot afford their rent.
"It is an emergency when rent is no longer payable and too many people are disposed and homeless.
"Ten thousand homeless people is too many and it is a scandal when thousands of children are living in hotels, hostels and Bed and Breakfast.
"Housing is a basic human right. Too many of our citizens are affected."
Those taking part included representatives from the Dublin Council of Trade Unions, Siptu, Irish Coalition to End Youth Homeless, Dublin West Housing Association, National Union of Journalists, Mandate trade union, Forsa, Union of Students in Ireland and Irish Congress of Trade Unions.
Singers Damien Dempsey and Frances Black also performed during the rally.
Orla O'Connor, director of National Women's Council of Ireland (NWCI), who was also a leading figure in the Repeal the Eighth amendment, described the rally as "an important day" adding that there is an "appalling housing and homeless crisis".
"It's the most serious equality challenge facing our society today," she said.
"Everyday women and children are being driven out of their homes as rents increase and they find themselves in an impossible cycle.
"We have one of the highest rates in Europe of women's homelessness.
"Official figures do not represent the full extent of the problem as women are more likely to be in more invisible forms of homeless."
Keith Troy, a founding member of the National Homeless and Housing Coalition, said the housing crisis is a problem effecting everyone.
The construction worker, who is on a zero-hours contract, called for further action and more people to take the street in protest over the government's housing policy.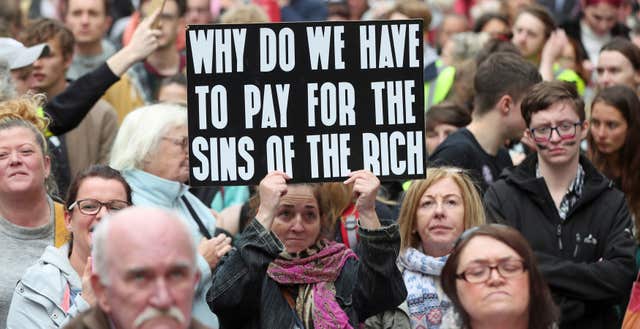 "It's a problem effecting everybody, even people who have been paying mortgages for years because now the government has introduced a policy where vulture funds can come in and buy up healthy mortgages," he added.
Siona Cahill, president of Union of Students Ireland (USI), said that over 6,000 students were on the streets on Wednesday.
She described some of the living conditions students in Ireland face.
"Spiralling costs, rogue landlords, little to no deposit protection, damp, run-down and over-crowded conditions. Box rooms with two or three beds, sleeping on friend's couches, staying overnight in cars outside college," she said.
"There has been a 2% increase in student numbers every year for the past decade and this is expected to continue, the Government failed to plan accordingly.
"We have not built enough student accommodation for this increase never mind the shortage that currently exists."
Another speaker described how members of the Traveller community are "the most marginalised and excluded groups" in Irish society.
Bernard Joyce from Irish Traveller Movement told the crowd that members of the Travelling community are forced to hide their true identity as they are 20 times more likely to be discriminated against by landlords.
"Travellers are 11 times more likely to become homeless than the settled population," he said.
"Our children live in sub-standard and subhuman conditions that no one else would be expected to live in.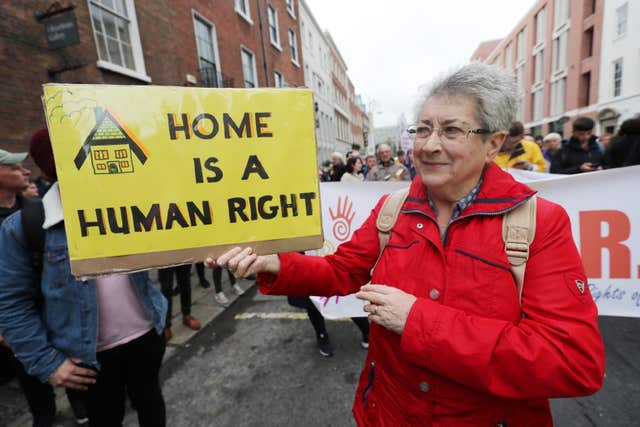 "Our voice matters, it matters here, it matters in society and it matters tomorrow."
Following the rally, Gardai were forced to step in and separate activists from the Labour Party and some members of homeless organisation A Lending Hand after the two clashed.
Keira Gill from A Lending Hand said: "We do not support Labour and we never will.
"They are a party on the way out and the working class will never support them."