The widow of Pc Keith Palmer has criticised "lax security" at the Palace of Westminster as a coroner found his death may have been prevented.
Michelle Palmer said her husband was left "alone, unarmed, guarding an open gate" when he was stabbed by a marauding terrorist armed with two foot-long knives.
The inquest had heard how the two armed officers tasked with patrolling New Palace Yard had been nowhere near Carriage Gates for nearly an hour before the attack.
Khalid Masood, 52, had targeted the unarmed police officers guarding Parliament after mowing down pedestrians on Westminster Bridge in a hired car, killing four.
Following a four-week inquest at the Old Bailey, Chief Coroner Mark Lucraft QC found all five victims had been "unlawfully killed" by Masood.
In his conclusions, he said: "Due to shortcomings in the security system at New Palace Yard, including the supervision of those engaged in such duties, the armed officers were not aware of a requirement to remain in close proximity to the gates.
"Had they been stationed there it is possible that they may have been able to prevent Pc Palmer suffering fatal injuries."
Masood was eventually shot dead by a plain clothes close protection officer.
Mrs Palmer issued a statement saying: "How could Keith have been left alone, unarmed, guarding an open gate at one of the most iconic buildings in the world and one of the country's top terrorist targets?
"He was left at a vulnerable location with no protection to die.
"The fact there were no firearms officers there for nearly an hour is hard to believe.
"I truly believe that if they had been there he would still be here today and Amy wouldn't have lost her daddy.
"What is so disappointing is that the police haven't been very open about their investigation in relation to the security arrangements at the Palace of Westminster.
"They have been very slow to get to the bottom of how this was allowed to happen.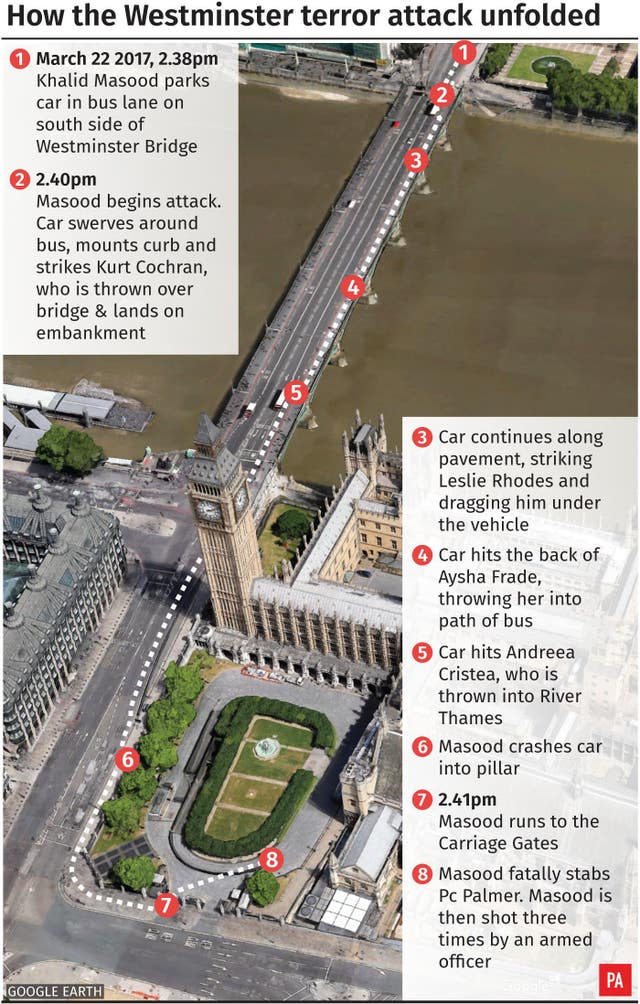 "What makes it even worse is that this lax security had been carrying on for years and it has taken what happened to Keith for things to change."
The parents and sisters of Pc Palmer, who would have turned 50 on Wednesday, said the inquest had been "traumatic" and "extremely difficult".
They said the Coroner should have gone further in his findings, accusing senior Met officers of closing ranks.
John and Sylvia Curtis, Angela Clark, Michelle Palmer, and John Curtis said in a statement: "The inquest has been traumatic and extremely difficult for our family.
"We welcome the fact that the Chief Coroner has recognised some of the Met's failings, and their consequences, but believe he should have gone further.
"We fought hard to try and get answers to the many questions which have arisen through this process.
"Unfortunately there are many which are still unanswered.
"We expected the Met to welcome an open and transparent examination of this horrific attack on its own officer and members of the public, yet instead senior officers seem to have closed ranks.
"What message does this send to ordinary officers bravely reporting for duty every day, to keep us all safe?"
The Coroner outlined Masood's background in the run-up to the attack, including his convictions for violence and links to extremists after he converted to Islam.
The court had heard he first appeared on MI5's radar in 2004 when he was connected with a suspect in the fertiliser bomb plot.
He was dropped as a subject of interest in December 2010 but continued on MI5's radar with "intermittent" contact with suspects until 2016.
In the days before the attack, Masood bought knives, hired a high powered Hyundai Tuscon and carried out reconnaissance in Westminster.
He visited his mother and told her: "They are going to say I'm a terrorist but I'm not."
On the afternoon of March 22 last year, he drove across Westminster Bridge and knocked over and killed American tourist Kurt Cochran, 54, retired window cleaner Leslie Rhodes, 75, mother-of-two Aysha Frade, 44, and Romanian designer Andreea Cristea, 31.
Twenty nine other pedestrians were seriously injured as Masood mounted the pavement before crashing into railings at the Palace of Westminster.
He got out of the car and lumbered towards the gates of the Palace of Westminster where Pc Palmer came forward to challenge him.
Mr Lucraft said: "It was an extremely brave thing for him to do.
"He was fulfilling his job to protect the Palace and those within it."
"It is clear to me that Pc Palmer acted bravely, he did not shrink from performing his duty of protecting those in the Palace of Westminster."
He also told how Mr Cochran "almost certainly" saved the life of his wife Melissa by pushing her out of the way.
He said: "Had he not taken the action he did she may have died or sustained even more serious injuries than she already sustained."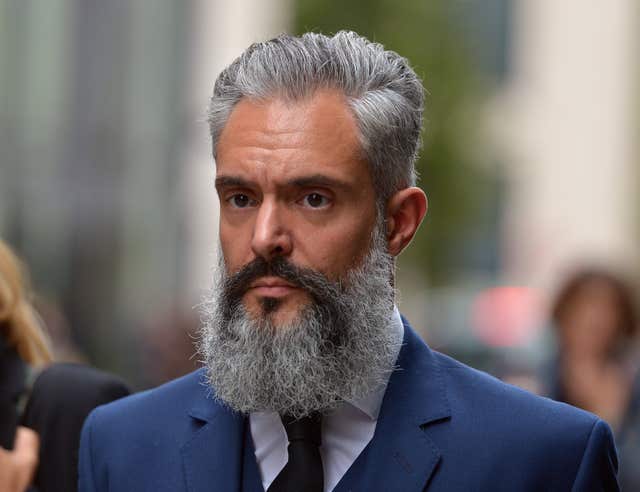 Ouside court, John Frade, who lost his wife Aysha, said: "Even though these proceedings can never bring Aysha back we are here to make sure that the only ones who are remembered as a result of this atrocity are Aysha and the other victims.
"One of the first pieces of advice Aysha ever gave me was that for things to change, you need to change.
"We hope that as a part of her legacy lessons will be learned in preventing other families from being in this situation in the future.
"Aysha will be forever our guiding light and even though our family will never be the same without her, we will continue to fight against the injustice."