Barcelona striker Luis Suarez led the tributes to Lionel Messi after the Argentinian scored the 500th goal of his career to give Luis Enrique's side a last-gasp 3-2 win over 10-man Real Madrid.
Messi struck twice in a dramatic victory to take Barcelona to the top of LaLiga.
Ivan Rakitic was also on target for Barcelona, while Casemiro and James Rodriguez – the Colombian having equalised in the 85th minute – scored for hosts Real, who had captain Sergio Ramos sent off for the 22nd time in his Madrid career in the final quarter.
Ramos received an El Clasico red card for the second successive season 13 minutes from time. Messi was fortunate that the Spaniard's two-footed challenge did not make contact with him and that he avoided serious injury.
Former Liverpool forward Suarez was quoted on Barcelona's official website as saying: "It's time to enjoy beating a direct opponent, Madrid. It's time to enjoy the best player in the world and of all time.
"He keeps showing that in the most important games, which is when you really see him. It's admirable. Our destiny still isn't in our hands, but they're under pressure to win every game, because we aim to do the same."
Barcelona captain Andres Iniesta echoed the sentiments of Suarez, adding: "The great thing about Leo is that he never stops surprising you. After so many years he continues to be the difference. For us it is an honour and a blessing for the club.
"It was a match with a bit of everything, stages where we were in control, others where we were in too much of a hurry to attack. These games are difficult here and there were chances for both teams, but in the end we got the winner in added time to leave very happy, it couldn't be any other way.
"We have achieved our objective, we have a chance and we have to take it.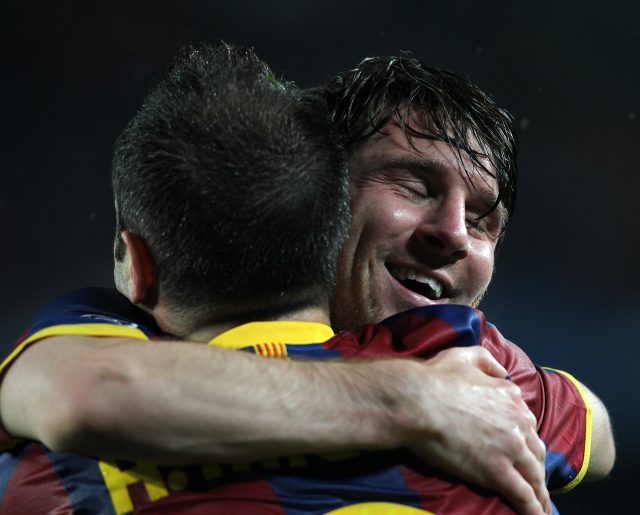 "These matches are brilliant for the fans, chances for both teams. We are very happy because it was not easy after being knocked out [of the Champions League] the other day. It wasn't easy to be back for this kind of fixture, but we did it."
Defender Gerard Pique felt that Barcelona were worth the victory that sees them top the league on goal difference from Real, although Los Blancos have a game in hand.
Pique said: "I believe the result was deserved, because winning at the Bernabeu is very difficult. Even though you might play well, you might not end up winning. I have fantastic memories at this ground.
"Tonight we were the better team. We witnessed a great spectacle, where we were superior and we have gone top (of LaLiga).
"Leo's 500th goal had to be a special moment, as is he. I hope he retires in many years."